2021 – COMING SOON 
audio trailers
KIDS, HARVEST, HOW TO KILL YOUR FAVOURITE CHARACTER, REUNION.RED.CIRCLE.THREE, ADDICT
exclusive interviews! | cast, writer and producer – every episode
---
No episodes yet! Check back soon.
exclusive interviews! | cast, writer and producer
ABOUT | 'REUNION. red. circle. three'
KT, Dyllan and Niems
red. circle. three
Moscow. St Petersburg. Berlin.
Lake Harris.
Goodbye.
3 disparate 'children of the world'. A road movie crossing 3 continents, 3 careers, 2 ways of surviving and only one way of dealing with grief: yours. The surviving 2 can't reconcile.
They were family. It began with a delicious red outfit. KT knew Niemen for six years. It didn't last forever. It wasn't their destiny. Of the many places KT's been, it is the first time she's journeyed through Grief. Spent time in Shock. Missed the stop for Disbelief. Denial. Not much to see there. On to Sadness. Then she was marooned at Angry for some time. KT is looking for a place called Acceptance.
The surviving two can't reconcile. There will be no family reunion.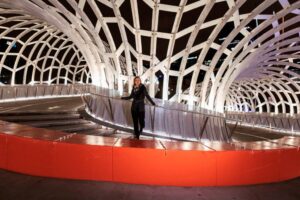 What if a family reunion was never meant to be?
PROJECT ONE | 'REUNION. red.circle.three.' | cast: Katharine Innes as 'KT'
Production date: Wed 24th August 2016
We're thrilled to announce the delighfully sublime and outrageously talented KATHARINE INNES stars as 'KT' in 'REUNION. red.circle. three' for PROJECT: A FISTFUL OF SCRIPTS | V2.AUDIO
---
Written and directed by Sean McIntyre. Photography by Sophie de Wit | www. sophiedewit.com.au
adapted from 'Red.Circle.Three' by Sean McIntyre, from his original work | original short story | published: The Turl Times, Oxford Uni (UK) FEB 2012
© Callumny Films & Wise Words Media.
Image cannot be reproduced without permission.